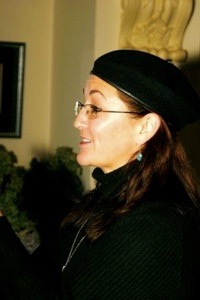 I feel very lucky to have grown up in a family with two generations of amateur and semi-professional musicians before me. Music was always a very important part of life in our household. My early musical education was in classical music with violin lessons from the age of around 8. My weeks were filled with choir youth orchestra rehearsals. At home there were also the sounds of Ella Fitzgerald, Frank Sinatra and Oscar Peterson (to name a few) regularly playing and I guess this was my first taste of jazz. I also dabbled in music theatre performing the role of Maria in West Side Story in my final year of high school.
Since I began to sing and study jazz seriously I have always felt that a reliable instrument, and therefore good technique, was essential to true creative freedom. My approach to teaching singing is very much based on developing an 'easy' vocal technique with minimum vocal effort. Through physical awareness, a deep connection with the body and development of the ear, the art is learning to place energy in the 'useful' areas of the body - facilitating and supporting the larynx during singing. All of this is naturally in service of creativity and expression – ultimately what music is all about!
My study with Sally Ireland (speech pathologist) and my experiences with Estill Voice Training, along with my insatiable 'need to read' have helped develop my knowledge of how the voice works and given me the language to explain this to others. My own performance experience gives me a deep understanding of how all this relates to the podium.
The voice as an instrument infinitely fascinating and how it relates to us as expressive, emotional individuals is also intriguing.
Control of your instrument is essential in all styles of singing and particularly when it comes to jazz. Spontaneity of phrasing and improvisation requires a reliable and flexible instrument that lets you go where you want to musically.
Teaching and singing are for me intimately linked: one informs the other and both are equally, though differently, satisfying.
I have a small number of private students. For enquiries please mail contact@kristencornwell.com
Current teaching positions.
2005  -  Present: Stedelijk Conservatorium of Muziek, Mechelen www.conservatoriummechelen.be
vocal teacher/vocal ensemble/ combo
Previous Teaching Positions
2013 - 2016: Academie Grimbergen
vocal teacher/vocal ensemble
2007 – 2014: Conservatorium of Gent (B)
vocal teacher/improvisation lessons
2005 – 2008: Stedelijk Academie Muziek, Woord en Dans, Sint-Niklaas (B)
vocal teacher/vocal ensemble

2003 – 2004: Australian National University (Canberra, AUS)
Vocal Teacher/vocal ensemble/ensemble

2001 – 2002: University of NSW (Sydney, AUS)  
Vocal Teacher     
2001 – 2002: St. Catherine's Waverly (Sydney, AUS)
Vocal teacher/vocal ensemble
1993 – 2004: SCECGS Redlands (Sydney, AUS)
Vocal teacher
1995: Austalian Institute of Music (Sydney, AUS)
Vocal teacher
Academic Qualifications.
2014: Leraren Opleiding, LUCA School Of Arts, Leuven (B)
2007: Master of Jazz, Royal Conservatory of Music, Brussels (B)
1989: Bachelor of Jazz Studies, Australian National University – Institute of Arts. (Canberra, AUS)
Other study.
2013     Level 1 and 2 – Estill Voice Training
2008    Voice Workshop with Sheila Jordan (USA)
2004    Voice Workshop with Mark Murphy (USA)
1998    Music Theatre & Cabaret Performer Training Seminar with Robert Edwin (USA), Toni Lamond, Tommy Tycho, Max Lambert etc.
1996     Voice Workshop with Jo Estill - EVTS (USA)
1989     Voice lessons with Kerrie Biddell (Australia's most respected jazz singer)
1984 – 1987  Voice lessons with Helen Swan – BA Mus.Dip.Ed